TASHKENT -- Laziza Ollobergenova, 25, was renting an apartment in Tashkent for $350 a month alongside her two sisters after moving from Khorezm province, some 1,000km away.
But some Russians -- likely looking to flee the Russian draft announced in September, seven months after Russia invaded Ukraine -- offered $700 a month to her landlord, forcing Ollobergenova and her sisters to move, she said.
"We have nowhere to go. But we'll have to move because we can't afford that," said Ollobergenova, who works at a beauty salon with her sisters. "We'll probably look for a place to live in Tashkent province."
"That will mean traveling 50km to work and back, but what can you do? I never thought a war that's happening 5,000km away would affect me."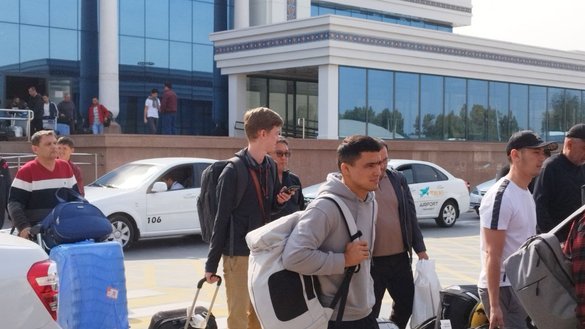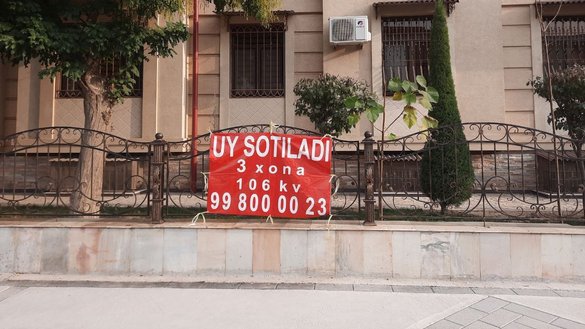 "I curse this war and [Russian President Vladimir] Putin," Ollobergenova said.
Some 70,000 to 100,000 Russians are estimated to have entered Uzbekistan since the start of the invasion on February 24 and Putin's subsequent military mobilisation in September.
Like Ollobergenova, many Uzbeks are now facing rising rents due to the influx of Russians.
Nazhmiddin Khairullayev, a 55-year-old Uzbek, lived with his wife and son in a rented two-room apartment in Tashkent until his landlord asked them to move out before October 17.
Khairullayev had been in the apartment for a year and had diligently paid the $400 rent every month.
"Now these deserters or refugees -- I don't know what to call them -- have disrupted my family's life," Khairullayev said. "The landlord doubled the rent, but I earn $900 [per month] and can't pay that price."
"I'm going to send my wife to live with her parents and I'll move in temporarily with relatives," he added.
Housing crisis
From July through September, the number of real estate contracts signed jumped by 20% compared to the same period last year, according to the latest data from the Central Bank of Uzbekistan.
In August and September, rents for apartments and houses rose by 14%.
"This rapid growth on the real estate market continued in the third quarter of this year, driven by growing demand for housing among nonresidents from Russia and an increase in secondary income among the population, as well as a series of seasonal factors," the Central Bank said in a statement.
Inflation in real estate is especially pronounced in Tashkent, said Javlon Jurayev, an economist in the capital.
Tashkent is still the main destination for migrants from Russia, partly because the refugees know little about other provinces in Uzbekistan and prefer the capital, he said.
The influx of Russians into Tashkent also coincided with the start of the academic year and the return of students, exacerbating the housing crisis, he added.
Rent began rising after September 21, when Putin announced his "partial mobilisation", according to Aziz Pattokhov, who works at a real estate company in Tashkent.
"Rents went up by almost two or two and a half times," he said. "Apartments in central Tashkent are now being marketed to Russians for $800 to $1,200. And 10km from the central districts, rents range from $600 to $1,000."
Right now the overwhelming majority of his clients are young, single men of draft age, he said.
"On average, they want to rent an apartment for $300–$400. But those rents are a thing of the past," he said. "So two or three of them get together to rent one apartment, but they make the lease three or four months long."
"Obviously they're counting on just staying for the winter and figuring that by spring, the war -- or at least the mobilisation -- will be over," Pattokhov said.
Property owners and real estate companies are now earning money off the Russians, but that has a negative effect on Uzbek citizens, especially students, he said.
"I get calls every day from five or six people who have been evicted from their apartments so they can be rented to Russian migrants for more," Pattokhov said.
Forced evictions violate the Civil Code and other laws, the Justice Ministry warned in October.
The state needs to protect citizens and the public prosecutor needs to intervene in forced evictions, said Anvar Nazirov, a Tashkent-based economist.
"You can't put people out on the streets. Many students have rented relatively inexpensive apartments. Now they don't have the luxury of renting housing at this exorbitant price."
Rents will continue to go up, he predicted.
"That's accounting for the fact that prices for everything in Uzbekistan have been skyrocketing for the last five years," Nazirov said. "The cost of living has risen. Inflation is high."
Growing anger
The escalating real estate costs have sparked broad public outrage online.
"Housing costs are out of this world ... a one-room apartment in a bedroom community costs A MINIMUM OF 30,000 CUs [conditional units]," a reader on Gazeta.ru commented on one article, referring to an Uzbek way of calculating costs.
"Maybe these bleeding-heart Russian patriots living in Uzbekistan will give refuge to these new arrivals?" Dervish Bukharsky wrote on Facebook group Potrebitel.Uz (Consumer.Uz).
"We give lip service to 'we don't abandon our own', but how can we really help if we're immediately put out on the street?" he said.
The situation has even been parodied on TikTok.
In one video, a landlord who has been renting an apartment to some Uzbek students hurriedly changes the apartment's decor, swaps out an Uzbek instrument for a balalaika, changes the Uzbek TV channel to a Russian one, sings "Kalinka" and replaces the plov the students were planning to eat with borscht.
He then asks the students to vacate the apartment and explains what is most important: money.