ALMATY -- Bellicose statements by Russian pundits that have been mounting in the past few years are stoking fears among the Kazakh public that Moscow could turn its words into action, as it did in Ukraine.
Once again, at the epicentre of the scandal is "An Evening with Vladimir Solovyov", a political talk show that airs on the Russian state-owned television channel Russia-1.
On November 21 -- like every day before it for almost nine months -- Solovyov, the host and a vocal propagandist for the Kremlin, talked about the war in Ukraine and the geopolitical confrontation between Russia and the West.
During the discussion, after praising Belarus for showing "phenomenal support for Russia", Solovyov took a jab at Kazakhstan, saying that Russia has "provided even more support" to it but that Kazakhstan has not reciprocated amid the invasion of Ukraine.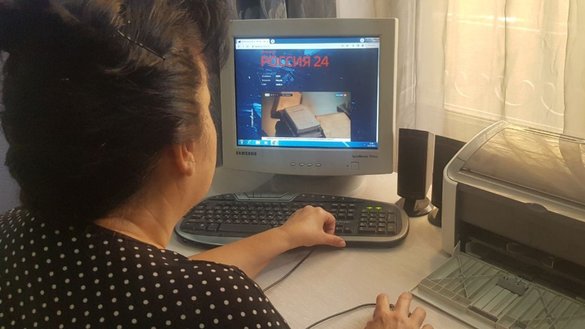 Kazakhstan has refused to recognise the independence of the separatist Donetsk People's Republic and Luhansk People's Republic in eastern Ukraine and has pledged its commitment to Western sanctions against Russia.
That defiance has angered the Kremlin and its pet propagandists.
"It's now clear who's who," Solovyov said.
Dmitry Drobnitsky, a political analyst who appeared on the show that day, also crossed a red line.
"Let's note that the next problem [after Ukraine] is Kazakhstan because the same Nazi processes that were happening in Ukraine could begin there," Drobnitsky said, invoking the Russian lie that Ukraine has a Nazi government.
In Kazakhstan "there are also many Russians", said Drobnitsky, implying that they could be the targets of prejudice, adding that Kazakhstan is home to the Semipalatinsk nuclear testing site and nuclear fuel "for our entire Rosatom".
Semipalatinsk, now Semey, was the site of more than 400 Soviet nuclear weapon tests between 1949 and 1989. Rosatom is Russia's state-owned nuclear energy agency, which buys uranium from Kazakh mines.
The remarks roiled not just Kazakh civil society but also high-ranking officials, who were already offended by endless tirades from Russia about alleged "xenophobia against Russians", the notion that "Kazakh territory historically belongs to Russia", and now "Nazism in Kazakhstan".
Drobnitsky's statement "clearly sounds like a direct threat to our country", Mukhtar Kul-Mukhammed, a member of the Kazakh senate and chair of its international affairs, defence and security committee, told journalists last Thursday (November 24).
"Such accentuated, intentional attacks by Russian politicians have long become standard on Solovyov's show," Kul-Mukhammed said.
"Without a doubt, they merit an objective reaction by Russian federal authorities," he said, meaning that Russian officials aware of Solovyov's damage to Russia's image should stop him from broadcasting hate speech.
Solovyov is persona non grata in many countries and is on a number of sanctions blacklists, said Kul-Mukhammed.
"[Solovyov] is now embittered, so he's attacking everyone in succession and spouting poisonous drivel," he said.
Solovyov "himself often prods his guests to make controversial, incendiary statements live on air and in hysterical terms", he added.
Damage control
In the aftermath of the broadcast, Russian officials scrambled to limit the fallout.
Dmitry Peskov, Russian President Vladimir Putin's spokesman, told the Astana television channel Khabar 24 that he had not seen Solovyov's programme and did not know Drobnitsky.
"Political analysts like him in no way reflect the Kremlin's official position. And you should keep that in mind -- you don't need to listen to them or watch them," Peskov said.
It was then up to Solovyov to explain himself.
In a brief segment of his programme posted on YouTube, he said that he invites leading experts with diverse views to appear on his programme and that their points of view "often conflict with each other".
"We love Kazakhstan, respect the Kazakh leadership and fully understand the importance of the Russia-Kazakhstan friendship," he claimed.
Yet on his programme in summer 2019, Solovyov suggested launching a preventive strike on a bio lab in Almaty -- with its population of two million -- because he groundlessly considered the lab a threat to Russia's national security.
Factless
The attacks by the Russian propagandists on Kazakhstan are clearly cynical, given that they have no grounding in fact, Gaziz Abishev, a political correspondent and editor-in-chief of the news site Turan Times, told Caravanserai.
"Our country isn't a threat to Russia now, and it won't be in the future, and they're completely aware of that," Abishev said.
The Kremlin may be using the anti-Kazakhstan narrative to divert the Russian public's attention from worsening domestic problems, but it will not be able to keep that tactic up for long because sooner or later it will stop working, he said.
Moreover, Russia first needs to cope with Ukraine, which has become a thorny problem, Abishev said.
The threat of a Russian invasion of Kazakhstan should not be underestimated, Erica Marat, a professor at the National Defence University in Washington, DC, told Caravanserai.
On the bright side, Russia's military might is not what it was at the beginning of the year, Marat noted.
The Russian army's ambitions of conquering Kyiv in two days fell apart rapidly, and Ukraine is regularly inflicting high casualties.
"Does Russia have enough military resources to wage a war against several countries?" Marat asked rhetorically.