BEIJING -- Chinese media since the start of Russia's invasion of Ukraine have turned to repeating Moscow's propaganda in an attempt to avoid blaming Russia and to justify President Vladimir Putin's actions.
The tone of such reports has continued as Russia -- feeling the pinch of those sanctions, unexpectedly high casualties and equipment losses, and its increasing isolation -- asked China for military and economic aid for its war in Ukraine, US media reported Sunday (March 13).
US officials told media that Russia had requested military equipment and support from its key ally, as well as economic assistance, the New York Times reported.
The officials speaking on the condition of anonymity declined to explain exactly what Russia had requested, or whether China had responded.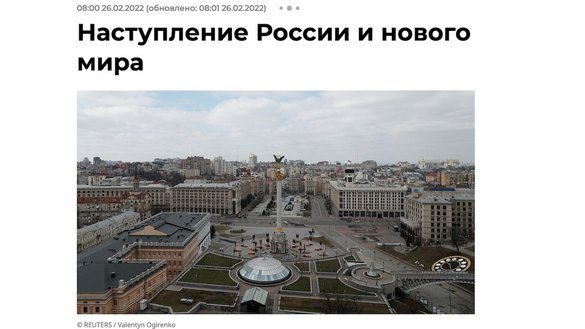 For its part, Beijing refused to directly address the reports, instead accusing Washington of maliciously spreading "disinformation" over China's role in the Ukraine war.
So far, Beijing has declined either to support or condemn Moscow, while blaming the United States and NATO's "eastward expansion" for worsening tensions.
That view reverberates across state newspapers and television -- as well as social media -- in China's tightly controlled news environment.
When Putin announced an assault on Ukraine on February 24, China's official Xinhua news agency maintained it was a "military operation" and Moscow had "no intent" of occupying Ukrainian territory.
A directive to a state-affiliated outlet that circulated online last month also appeared to instruct that posts unfavourable to Russia or containing pro-Western content should not be published.
Chinese state media reports on Ukraine avoid terms like "invasion", instead describing the situation as a "conflict" or "fighting".
Chinese officials, too, have rebuffed the term "invasion" when questioned by foreign journalists, while claiming that China respects every country's sovereignty.
Censorship and nationalism
Beijing has also tried to portray itself as the measured middle voice that could help with peace efforts.
China has upheld an "independent policy on Ukraine issue [and] develops ties with all sides to inject stability into the world," the Global Times said Friday.
"This is not a struggle to find the right message," Justyna Szczudlik, China analyst at the Polish Institute of International Affairs, told AFP.
"China purposely uses very vague language" to reduce diplomatic risks in its relations with Western countries, she said.
Meanwhile, fierce condemnation of war at the opening of the Winter Paralympic Games in Beijing was not translated on Chinese TV.
And Chinese rights holders to broadcasts of the English Premier League did not air matches a weekend earlier in March, knowing players were expected to show solidarity with Ukraine.
Under the barrage of China's support, netizens have been showing sympathy for Russia.
Pro-Putin hashtags have been allowed to proliferate on Weibo, along with admiring comments about how daring he is and calls for Ukrainians to surrender.
In contrast, articles about state media embracing Russian propaganda were removed as "false information".
"As with every country, China... considers its own security interests above all else," said Richard Ghiasy, an analyst at the Hague Centre for Strategic Studies.
"In that security calculation, stable and predictable ties with Russia are absolutely pivotal," he said.
But Ghiasy says China sees the invasion as an act of "defence" against an encroaching NATO that would undermine Russian security interests.
"It has taken a clear stance and tinkers little with that," he said.
'Exclusive' access
In addition to toeing Beijing's line, Chinese media have taken to parroting Russian disinformation.
Using a Kremlin talking point, some Chinese reports have claimed that there has been a surge of "neo-Nazi" ideology among the Ukrainian army and people.
Putin himself has referred to Ukrainian President Volodymyr Zelenskyy as a "drug-addled Nazi" in an attempt to justify the war.
Zelenskyy, who is Jewish, won the presidential election in 2019 with 73% of the votes. His approval rating has soared to more than 90% for his handling of the war.
Just hours after the invasion started, the Chinese Communist Party's tabloid Global Times -- quoting the Kremlin propaganda television channel RT -- posted a video claiming that a large number of Ukrainian soldiers had surrendered.
Two days later, Chinese state broadcaster Central Television (CCTV) echoed a false Russian claim that Zelenskyy had left Kyiv -- a story quickly repeated by other domestic outlets and on China's Weibo microblogging website.
A related hashtag on Weibo was viewed 510 million times and used by 163 media outlets in the country, The New York Times reported.
On February 26, CCTV propagated another piece of Kremlin disinformation, quoting Putin as he made the unfounded allegation that Ukraine has been using civilians as human shields.
Media outlets have also started explicitly pushing Russian conspiracy theories.
"There is no smoke without fire," Global Times wrote while repeating Russian claims that US-funded biological labs in Ukraine were experimenting with bat coronaviruses.
It did not report comments from Washington that the allegations were "outright lies" that have been debunked.