ALMATY -- Kazakhs are rallying to provide support to Ukrainians who are suffering from Russia's invasion of their nation.
More than three million people have fled Ukraine since the start of the invasion on February 24, the United Nations (UN) said Tuesday (March 15).
Civilians who remain in besieged cities have faced attacks on healthcare facilities, indiscriminate shelling and other horrors.
UN agencies in a joint statement on Sunday said that 31 attacks on healthcare facilities have been documented by the World Health Organisation's (WHO) Surveillance System for Attacks on Health Care.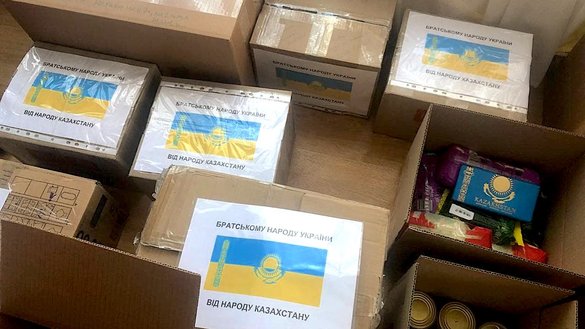 "To attack the most vulnerable -- babies, children, pregnant women and those already suffering from illness and disease, and health workers risking their own lives to save lives -- is an act of unconscionable cruelty," the directors of the UN Children's Fund (UNICEF), the UN Population Fund and WHO said.
In Mariupol, a port city that has been under siege since early this month, almost 2,200 residents have been killed and heavy Russian bombardment has left 400,000 inhabitants with no running water or heat and with little food, authorities said.
Mariupol faces a "humanitarian catastrophe", according to aid agencies and the Ukrainian government.
"Time is running out for the hundreds of thousands trapped by the fighting," the International Committee of the Red Cross said.
"History will look back at what is now happening in Mariupol with horror if no agreement is reached by the sides as quickly as possible."
'We are with you, Ukraine!'
In Kazakhstan, citizens are taking part in a humanitarian aid campaign dubbed "We are with you, Ukraine!"
Thousands of Kazakhs from all segments of society have donated already.
The campaign was launched after the Ukrainian embassy in Kazakhstan issued a call for help, according to Togzhan Kozhaliyeva, an Almaty resident and director of the NGO El Bolashaty (Future of the Country).
In response, her organisation posted a call to action on February 26 on its Telegram channel.
The very same day, Kazakhs began to send money for the purchase of essential goods, said Kozhaliyeva.
"We have already collected more than 150 million KZT (more than $290,000), medicine worth 25 million KZT ($48,500), and four tonnes of cargo -- children's items and baby food, warm clothes for adults, sleeping bags and pet food," she said.
"All this humanitarian aid was delivered to Poland on four flights, where Ukrainian embassy personnel met the cargo and organised its transfer into the country," she said.
"People are simply flowing like a river into the Ukrainian embassy [in Kazakhstan], where humanitarian cargo is being accumulated for shipment to Poland in order to help Ukraine," said Arman Shorayev, an Almaty businessman who is involved in the campaign.
"They are bringing medicine, essentials and food," he said. "More than 100 volunteers work from morning until late at night for free. They pack up everything that has been donated."
"There are Kazakhs, Ukrainians, Russians, Uzbeks and Kyrgyz. I spoke with one girl who has been coming to help for five days now," Shorayev said.
"Some Almaty restaurants are supporting the campaign by bringing in hot meals for the volunteers," he said.
"Among Kazakhs, there is no shortage of those who want to support Ukrainians."
Fighting for the future of Kazakhstan
Other public and private initiatives are under way in Kazakhstan to help Ukrainians.
"Kazakhstan is ready to provide humanitarian assistance to the citizens of Ukraine in the form of medicines and other essential products," the presidential press office said in a statement March 7.
"Options for transporting them to their destination are currently under consideration," it said. "The Kazakh government also helped evacuate 435 of our citizens to their homeland and more than 650 [Ukrainian] citizens to European countries."
Meanwhile, Relog, an information technology company with Kazakh roots, is providing its logistics software free of charge to Ukrainian businesses.
"We decided to help Ukrainians and their businesses by providing free access to our service for at least three months," said Almaty native Bauyrzhan Rustemov, Relog's general director.
"If the situation in Ukraine does not improve in this time, we will extend that grace period," he said. "Software implementation and tech support will also be free for companies."
"We have faith in and look forward to the moment when everyone returns to normal life," he said.
Today, Ukrainians are fighting not only for their own future but also for the future of the people of Kazakhstan, said Shorayev, the Almaty businessman.
"Everyone knows that Kazakhstan and Russia have the longest [continuous] land border in the world."
"And we also have collaborators and separatists who at any moment might want to declare some sort of Pavlodar or Kostanay people's republic, and the same hell that reigns in Ukraine could begin in Kazakhstan," he said, referring to provinces in northern Kazakhstan that Russian politicians in the past have claimed as historically Russian.
"That's why I believe that it is the duty of every Kazakh to help those who are fighting the occupiers in Ukraine," Shorayev said.