TASHKENT -- Kremlin-backed media are putting free speech in Uzbekistan on blast after Uzbek media refused to toe Moscow's line on its invasion of Ukraine.
Since the start of the invasion on February 24, Russian media have downplayed the war in Ukraine and painted Russia not as the aggressor but as a victim of the West.
This month Russia passed into law prison sentences of up to 15 years for spreading false information aimed at discrediting its military forces, as well as jail terms of up to three years for supporting sanctions against Russia.
On March 6, state-run television channel Russia 24 broadcast a programme dubbed "In the Centre of Asia with Robert Frantsev", which levelled criticism at several Uzbek media outlets.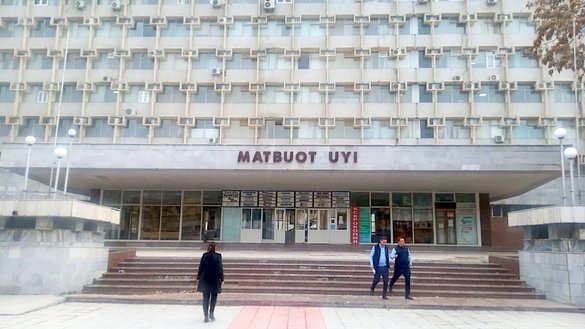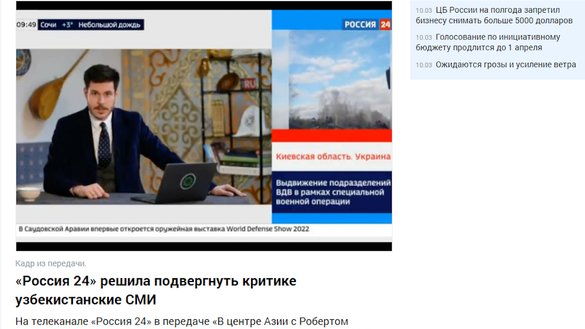 The programme targeted the news sites Gazeta.uz and Kun.uz, as well as Uzbek journalist and blogger Nikita Makarenko.
The presenter accused Makarenko of "spewing poison" after he wrote on Facebook that he dreams of the day the staff and managers of Russian-backed media outlets appear in court for inciting the war.
"I'm ashamed that they are using the language I love, the language the great humanists spoke and created in, and in which beautiful works about love and friendship were written," Makarenko wrote on March 1.
For its part, Gazeta.uz in an article on the first day of the assault called it an invasion.
The Russia 24 programme also "accused" Kun.uz of publishing materials by Latvia-based independent media outlet Meduza, which Russia has designated as a foreign agent.
Kun.uz had on March 2 republished a Meduza interview with Varvara Pakhomenko, a human rights and humanitarian law scholar who was part of the United Nations mission in Ukraine from 2016 to 2018.
She described what she had seen in Russian-occupied Donbas, Ukraine, and faulted the Kremlin for failing to implement the Minsk accords, which were meant to end the fighting in Donbas.
Frantsev called the publications' writers bloggers "who crawled out of nowhere" and "pseudojournalists", and said that they were all "recipients of Western grants".
He also cited a phone call between Uzbek President Shavkat Mirziyoyev and Russian President Vladimir Putin on February 25 in which Mirziyoyev purportedly "expressed an understanding of the actions Russia was undertaking in Ukraine".
"Unfortunately, not everyone in Uzbekistan endorses the wise and measured policies of their leader," Frantsev said.
A statement from Mirziyoyev's press office on February 26 simply had said that Uzbekistan was taking a balanced, neutral position on the issue and that Tashkent "traditionally has close, friendly relations with both Russia and Ukraine".
Willingness to blackmail
In response to Frantsev's remarks, Gazeta.uz posted only a transcript under the headline "Russia 24 Criticises Uzbek Media".
No commentary was needed, said the outlet's journalists.
Kun.uz ran a story about how Uzbek media are publishing objective reports about Russia and Ukraine and stressed that it is using Russian, Ukrainian and foreign sources.
Russia has entered a new phase of its propaganda-filled information war and psychological war, according to Kamoliddin Rabbimov, a political analyst from Tashkent.
Its main enemy is Ukraine, along with the West as a group, he said. At the same time, the Kremlin is keeping tabs on opinions about the invasion in the post-Soviet region, including Central Asia.
Russian media outlets, including journalists who specialise in the region, are signalling to the Uzbek authorities as well as bloggers and journalists that "if you criticise any more, you'll have huge problems", said Rabbimov.
"We know that Russia is no longer hiding its willingness to blackmail. Moreover, it has nothing left to lose, so it'll shape public opinion in this manner," Rabbimov said.
The Kremlin is especially watching what is going on in the region with the main geopolitical objective of recreating the former Soviet Union, albeit in a new format, he said.
"Russia, the Kremlin and Putin intend to gradually create their geopolitical pole. Belarus is already under their control, and so is Kazakhstan," he said.
"Now there's a line [of potential target countries] behind Ukraine. I think that line will then extend all the way to the other countries in the region," Rabbimov said.
Information war
However, even if the Kremlin has intimidated some neighbouring governments, those countries' populations have voiced boisterous anti-Moscow sentiments during the Ukraine war.
For example, Kazakhs turned out for a large pro-Ukraine rally in Almaty March 6 and have been donating generously to Ukrainian causes.
Russia's apparent defeat already in the information war explains the hysterics about Uzbekistan, according to Pulat Akhunov, an Uzbek politician living in Sweden.
The Russians have realised that even in Uzbekistan the majority of the intelligentsia is anti-Russian and that it boldly publicises that position, Akhunov said.
Russian propaganda is operating mechanically based on old tasks, he said, adding that its propagandists still have not grasped that world opinion about Russia has executed a U-turn.
Russia has always acted aggressively toward Uzbekistan if something displeases the Kremlin, said Anora Sodikova, editor of the website Rost24.uz.
Russian television channels are on the lineup of all the cable studios and viewers always watch the Russian news, which "brainwashes" the local population, she said.
"But now that the Uzbek media have gained strength and begun objectively reporting on the events in Ukraine, Russia's leadership isn't happy," Sodikova told Caravanserai.