An unprecedented number of Kremlin-backed mercenaries are withdrawing from hotspots in Africa and heading back to Syria and Eastern Europe as tensions continue to rise between Russia and Ukraine, according to media reports.
Russia withdrew about 300 Syrian fighters from Libya in early February, al-Suwayda 24 reported February 3.
The mercenaries had been recruited by the Kremlin-backed Wagner Group private military company (PMC) and had served as guards for oil facilities controlled by Russia in the al-Jufra area of Libya for more than seven months.
They departed from Benghazi airport in eastern Libya and returned to Syria's Hmeimim Air Base, sources told al-Suwayda 24.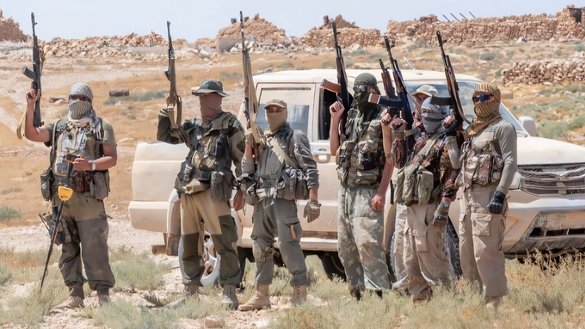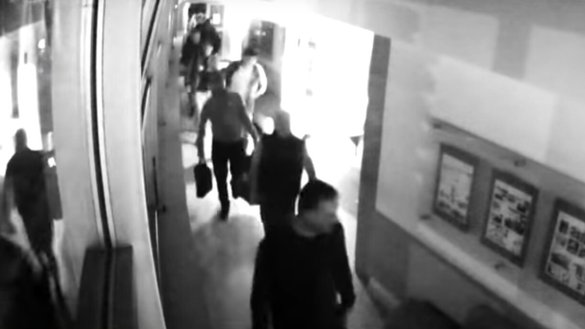 Typically Russia swaps out mercenaries in Libya every three to seven months. But what makes the recent withdrawal remarkable is that no replacement fighters were sent to Libya.
Mercenaries retreating
This is a pattern playing out in other hotspots where Wagner has a presence.
Last month, dozens of Wagner mercenaries left the Central African Republic (CAR) and more were preparing to leave in the next few weeks, The Daily Beast reported January 31, citing two senior military officers.
"Usually when we hear that some have left, we find out that they are just a handful -- sometimes five or six people within a month," said one officer who works at the military headquarters in Bangui, the capital.
"It's the first time we are hearing that dozens have departed in a month," he said.
It is not clear whether the Wagner mercenaries departing the CAR will be replaced later on, the sources said.
"We have specifically been told by their supervisors that about 20 Russians departed this January for Eastern Europe," said another official, who works closely with the Russians.
A man detained by the Wagner Group in early January told The Daily Beast that he overheard CAR troops describe a sudden exodus of mercenaries to Ukraine.
"For the 15 days we stayed in the camp, we only saw the four Russians that arrested us the first two days when we arrived," said Patrice Gaopandia, 26, who was detained along with three others when Russians stormed his home area and systematically arrested young residents for forced labour.
"It was later we heard FACA [CAR government] soldiers say that the Russian soldiers had left for Ukraine," he said.
With Russian mercenaries under increasing pressure to leave from a number of African hotspots and the Kremlin increasingly focused on Ukraine, observers say the sudden withdrawals are not a coincidence.
The mercenaries' move comes as Ukraine's allies, led by the United States, have scrambled to send more arms to Kyiv in recent weeks while warning that Moscow could be planning a full-scale invasion after massing more than 100,000 troops on the border.
Intelligence suggests Moscow wants to install a puppet leader in Kyiv amid Russia's intensifying hybrid warfare against Ukraine, including false flag operations, cyberattacks, disinformation and what now appear to be secret military operations.
'Moscow's worst kept secret'
Wagner mercenaries first deployed to Ukraine in 2014, when Russia annexed Crimea. Since then, Russia has been fuelling a simmering separatist conflict in the east of the country that has claimed more than 13,000 lives.
In subsequent years, Wagner mercenaries have been involved in conflicts around the world, including in Syria, Mozambique, Sudan, Venezuela, Libya, the CAR, Chad and Mali.
The Carnegie Endowment for International Peace think-tank has described Wagner as "one of Moscow's worst kept secrets".
It said the group has two primary goals: "to provide the Kremlin with plausible deniability when deploying fighters in war zones" and to offer "a ready-made capability for building influence with receptive states".
Russian businessman Yevgeny Prigozhin, an ally of Russian President Vladimir Putin, is believed to be the money behind the Wagner Group.
Prighozin has also bankrolled several movies that attempt to portray Wagner Group mercenaries as "heroic".
The latest film, "Granit", though filmed in the CAR, is set in Mozambique, where Wagner Group "instructors" helped the Mozambican army in its fight against Islamist insurgents in 2019.
It comes a few months after "The Tourist", which chronicles the recapture of rebel-held territory by CAR forces and their Russian allies.
Prigozhin denies being the financier of Wagner, and the Kremlin denies any connection to the PMC, which is an illegal organisation under Russian law.
The United States and the European Union (EU), however, have stepped up pressure against Prigozhin and the Wagner Group.
The EU in October 2020 levied sanctions against Prigozhin for destabilising Libya by supporting the Wagner Group.
Last December, the Council of the EU slapped sanctions on the Wagner Group itself, as well as eight individuals and three firms connected to it, and indicate the group's "destabilising activities" and "malign influence" in Ukraine, Syria, Libya and the CAR, among others.
In March 2021, a group of United Nations (UN) experts warned of human rights abuses victimising civilians by CAR soldiers and Wagner paramilitaries.
The UN recorded 526 violations and abuses of human rights over a year, which UN experts said caused at least 1,221 deaths, including those of 144 civilians.
Just last month, Russian mercenaries opened fire near the CAR village of Aïgbado, indiscriminately killing about 70 civilians, witnesses and survivors told The Daily Beast.
$10 million a month
While Russian PMCs bolster the Kremlin's influence in Africa, the mercenaries are becoming a burdensome friend, analysts say.
In the CAR, for example, President Faustin Archange Touadera in late 2020 appealed to the Kremlin to help save his government.
As rebels advanced on Bangui ahead of presidential elections, Russia flew in hundreds of paramilitaries, helping Touadera to turn the tide.
But that action and allegations of atrocities committed by Wagner mercenaries have alienated the CAR's traditional supporter, France.
"After the Touadera regime came under Russian tutelage, it isolated itself off from its Western donors and got rid of the opposition, while the peace initiatives have never borne fruit," said Thierry Vircoulon of the French Institute of International Relations (IFRI) think tank.
Russia, the CAR's ally since 2018, officially acknowledges only the presence of unarmed "military instructors" to train the CAR's poorly equipped armed forces.
But NGOs on the ground, as well as France and the UN, say that some of the Russians deployed in the country are Wagner operatives.
Meanwhile, the CAR is facing a swelling humanitarian crisis as more than three million people -- more than half of the population -- will need aid next year, according to the UN humanitarian aid co-ordinator, OCHA.
The CAR's involvement with Wagner is being emulated farther north in insurgent-hit Mali, whose military-led government is also courting its help.
France, Mali's former colonial ruler, has accused Wagner mercenaries of "supporting" Mali's ruling junta under the pretence of fighting militants.
Wagner is a "bad presence" that will not contribute to Mali's stability, Gen. Stephen Townsend, the head of US Africa Command, said during a teleconference February 3.
"I have reason to believe that the Malian government tab for Wagner's services is $10 million a month," he said.
"I think they'll have to trade in kind for natural resources such as gold or gemstones, because I don't know how they come up with $10 million a month," he added.